There are lots of valuable Instagram marketers or gurus that can help you with your social media game.
Instagram is still one of the best social media platforms on which to deploy a marketing campaign. While there are certainly newer platforms out there (Hello, TikTok), we have to remember that Instagram is owned by Facebook and supported by a ton of data.
But how can you actually get ahead on Instagram these days?
While it's rarely a good idea to copy another user, there are definitely influencers out there who can help improve traffic and conversions.
Gary Vaynerchuck – Instagram Marketer
Gary Vaynerchuk is arguably the most prolific content creator on the planet. He is also a magnetic keynote speaker, author and serial entrepreneur, one of the real Instagram Marketers that you can find.
After setting up Wine Library after college, Vaynerchuck grew his family business into a $60 million company. He also went on to build Vayner Media and write five best selling books that featured on the New York Times.
As if that's not enough, Gary Vee is a world leading podcast host and one of the most in-demand public speakers. Gary is also a massive fan of basketball and his ultimate dream is to buy his favorite team – the New York Jets.
Why Gary Vee Is Someone Worth Following
The truth is, I often need time to remember where to keep up with Gary's content, for his team posts unique content on each and every social media platform.
What's more, he has a daily vlog and podcast and a Facebook page that receives immense traction. However, I believe his Instagram account is the best place to keep up to date with the marketing guru. Gary might be one of the best Instagram marketers out there, so be sure to follow him.
Gary posts inspiring photos and captions on the daily, while highlighting the best segments of his podcast and daily vlog. Either way, Gary Vee is always eager to share his life skills, lessons and perspectives and rarely asks his fans or followers for anything in return.
Website – Gary Vaynerchuck
Instagram – @GaryVee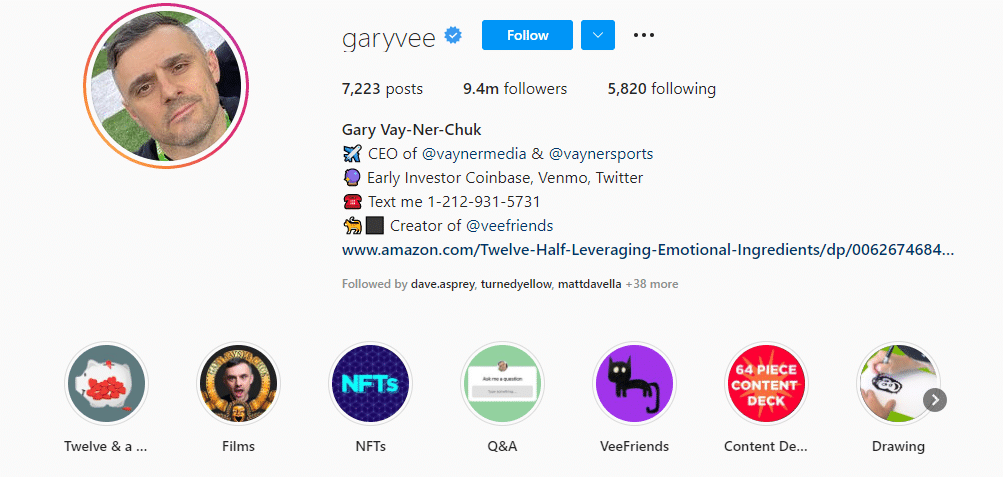 Neil Patel – SEO Guru
Neil Patel is one of the most respected entrepreneurs and influencers in terms of digital marketing. He founded Hello Bar and Crazy Egg, along with a number of other successful companies such as QuickSprout.
Most of his success comes from sharing his marketing skills and knowledge, while consultancy accounts for most of his actual net worth (approx 10 million).
However, nothing happens overnight and Neil spent many years accumulating this knowledge and success, while establishing himself as an influencer worth following on social. You can call him SEO guru and one of the best Instagram marketers because SEO is also a crucial part of social media life.
Why You Should Follow Neil on Instagram
Most people are stunned by the jaw-dropping amount of content that you can find on Neil's blog. Much of this content is based on how to create useful content and build traffic.
If you're like me, it's hard to find time to sift through large amounts of content which is why Neil's Instagram account is so valuable.
That is to say, Neil uses his Instagram account to provide tidbits of value and short, useful tips for anything related to digital marketing. Some of these posts also include graphs and statistics to re-emphasize the importance of what he has to say.
Website – Neil Patel Digital
Instagram – @NeilPatel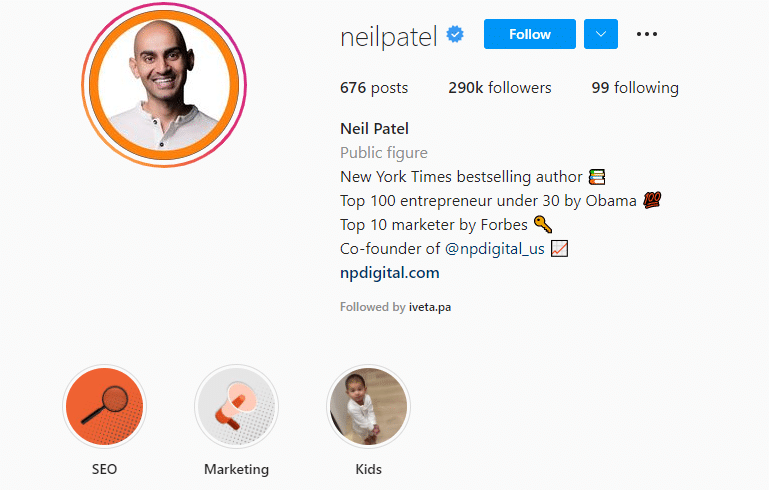 Instagram Marketers – Arianna Huffington
You know Arianna founded the Huffington Post, right? She is now one of the most inspirational women in digital marketing and online business in general.
Just so you know, that online newspaper was sold for more than $300 million to AOL in 2011. After selling the above mentioned empire, Arianna went on to create Thrive Global which helps enterprises build healthy habits through small steps and micro habits.
For the most part, Arianna is now focused on health and wellness, and uses her influence to provide value in this respect. You can call her one of the Instagram marketers because of her achievements.
Arianna Huffington Brings Tons of Value on Instagram
Arianna Huffington uses Instagram like a professional in every way but inspiration is what she really does the best. That is to say, Arianna has a great way of breaking down barriers for women in particular and using this process to build her own brand.
In the words of the entrepreneur, she wants to "end the burnout epidemic" and help others rekindle their love for work or the corporate environment.
With success stories, inspiring quotes and words of affirmation, Arianna has built one of the most inspiring and authentic Instagram accounts and we can put her into this Instagram marketers list.
Website – Arianna Huffington 
Instagram Handle – @AriannaHuff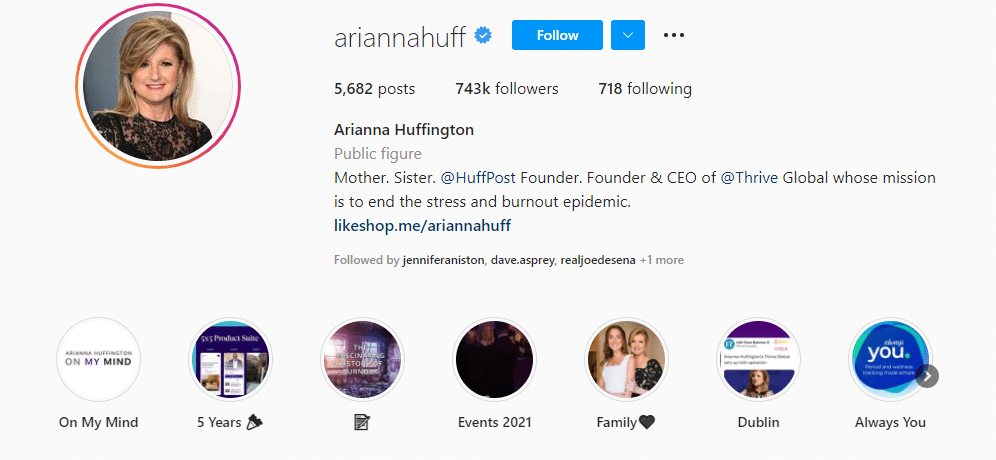 Jordan Belfort The Wolf of Wall Street
Jordan Belfort went to prison for crimes related to the manipulation of stock markets back in the 1990s. He was also responsible for profiting from these crimes and leaving a trail of destruction in the wake of his company.
Jordan fits very well in the Instagram marketers position.
You might know of the movie "Wolf of Wall Street" in which Leonardo di Caprio plays and depicts Belfort as a greed-driven individual.
After his release from prison, Jordan took to public speaking and training sales people for large organisations around the world. In recent times, he also set up a successful podcast and motivational speaking is still his main form of income.
But then why might I be recommending that you follow such a person on Instagram?
Why Jordan Belfort Should Be Followed on Instagram
Jordan Belfort is the ultimate salesperson and an outright genius when it comes to persuasion. Whether you agree with his tactics or not, there are endless lessons to be understood from how he speaks about his experiences and perspectives.
Belfort uses his Instagram account to connect with new followers and his main purpose is now driven by the need to provide value.
In other words, the sales guru wants his followers to grow and seems to be finally understanding that "giving" is the true path toward receiving and living a meaningful life.
Website – Jordan Belfort
Instagram Handle – @WolfofWallSt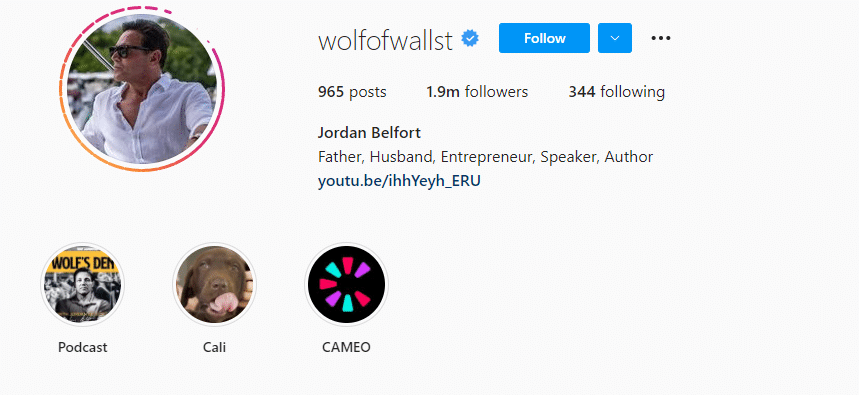 Pat Flynn Helps To Grow Passive Income
I'm amazed sometimes that more people don't know about Pat Flynn. As the author of Smart Passive Income, Pat is known as a marketing expert of the highest calibre. He is a great Instagram marketer.
In fact, most of today's marketing gurus still refer to Pat as their virtual mentor or inspiration at the very least. In case you might be asking yourself, his podcast has more than 10 million downloads and he is currently nailing every social media channel.
Pat Flynn on Instagram Brings Knowledge
Pat Flynn provides a wide range of online courses but he also takes time to give as much value as possible to those who follow his Instagram account.
Most of these strategies and skills are proven and widely acknowledged as being the best in the field. Sure, you will find the odd post of Pat hanging out with his family, but for actionable tips and strategies that actually work – this is an Instagram account that you should definitely follow. Even if Pat isn't one of the best Instagram marketers out there he still brings a lot of value to the community.
Website – Pat Flynn & Smart Passive Income
Instagram Handle – @Patflynn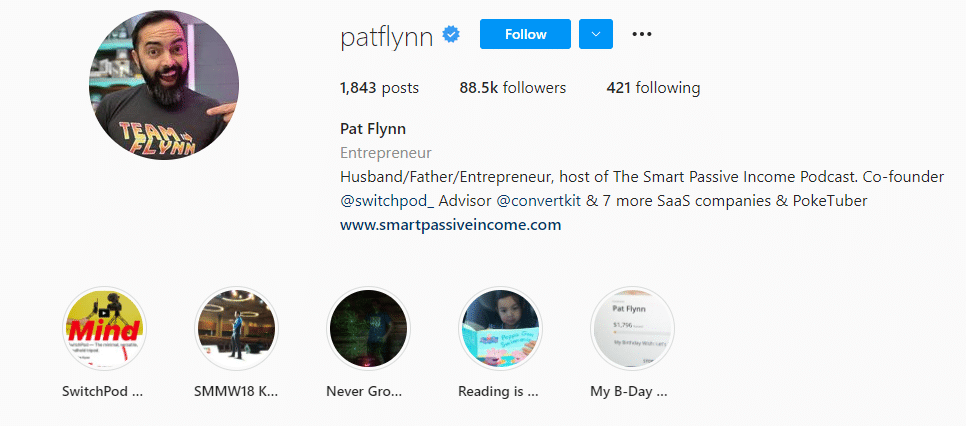 Robert Kiyosaki Is One of The Best Instagram Marketers in Finance
Robert Kiyosaki wrote Rich Dad Poor Dad which is regarded as the best personal finance book ever written. In short, Kiyosaki wants to help educate people about finance and change the way that people think about money.
He is also a speaker, investor and podcast host, and one that bases his opinions on real life experiences. You see, Robert served in the world war and lived through many recessions during which he developed these worldly opinions.
Robert Kiyosaki on Instagram Shares Great Advices
Robert is a visionary and uses Instagram to reach out and simplify many aspects of finance. He shares posts about his personal journey but also insights that can help people avoid the many pitfalls he has encountered along the way. I
f for nothing else, Robert is a great source of sense and this is often needed on a platform where images are often a poor reflection of reality. His knowledge in finances makes him on of the best Instagram marketers in finance sphere.
He also uses Instagram to share highlights of his podcast which is fast becoming one of the most respected finance podcasts in the world.
Website – Rich Dad
Instagram Handle – @therealkiyosaki
Rand Fishkin or SEO Master
Rand Fishkin is a famous name in the tech industry and this is mostly for his work at Moz. As you know, Moz is one of the leading search engine optimization websites in the world and a website at the core of most marketing strategies.
Rand is also a competent speaker, a prolific blogger and the author of a best selling book on the world of startups.
Rand Fishkin on Instagram
Rand Fishkin is like a godfather in the world of SEO but his efforts to help others is always evident on his website SparkToro.
Similarly, Rand's Instagram account is filled with tips and advice for young professionals and all of this content is completely free.
Along with this valuable advice, Rand is also quite a humorous person to follow and one that won't clog up your news feed with meaningless or spam-like posts.
We can't say that he is very active on Instagram so maybe he shouldn't be on this Instagram marketers list, but we still had to mention his output somehow. Maybe not an Instagram marketer, but definitely check out his Twitter profile for some great tips on marketing.
Website – SparkToro
Instagram Handle – @randderuiter
Twitter – @randfish
Grant Cardone Among Real Estate Instagram Marketers
Grant Cardone is a corporate investor and sales trainer that you will often find in the New York Times, Forbes and every other major publication.
Although often controversial, the sales guru has built five private companies on the back of savvy marketing and generated annual income of more than $300 million. You can see that Grant is the real estate Instagram marketers section, but he is on of the best.
Grant has written several best selling books such as "The 10X Rule" and his property portfolio is said to be more than $900 million. He is also a prestigious speaker and produces an insane amount of online courses and content on social media platforms in particular.
Grant Cardone on Instagram
Love him or hate him, Grant Cardone is a marketing genius and one of the best real estate Instagram marketers.
His questionable sales tactics were recently exposed somewhat by another member on this list (Jordan Belfort) but nobody can deny the extent of exposure the man receives. It's true, Grant Cardone knows how to grab attention and convert followers into paying customers.
Even if you don't enjoy the value he shares on Instagram, one can at least learn from how he works the platform.
Website – Grant Cardone
Instagram Handle – @GrantCardone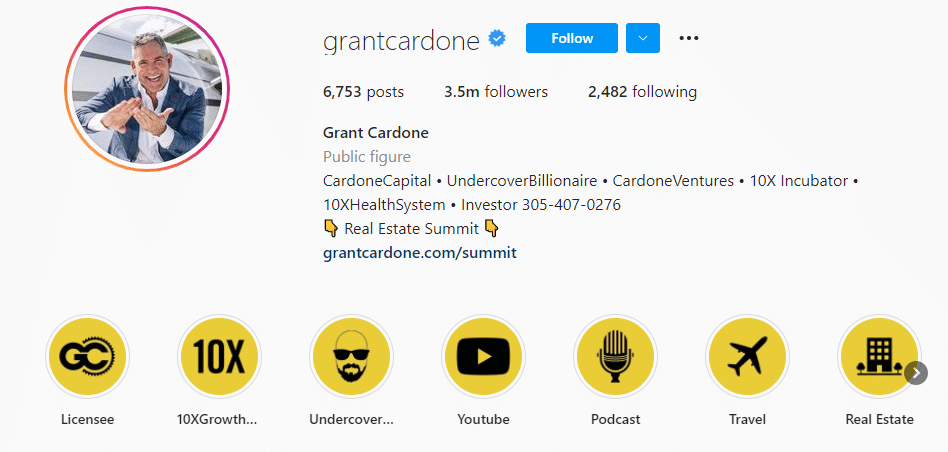 Instagram Marketer – Natalie Franke
Natalie Franke started Rising Tide Society which helps enterprises create strong connections with other companies.
In many ways, this company tries to teach businesses how to use their position to help their industry and even the competition.
As someone famous once said "a rising tide raises all ships" and more than 80,000 entrepreneurs are now part of this amazing community that continues to grow.
Natalie Franke Fantastic Community on Instagram
Natalie has created a fantastic community which extends to Instagram. She uses her work to inspire others to think differently and create an alternative mindset that will help the company grow.
After living an especially challenging life, these lessons are also based on real life experiences and her Instagram account has a great "human" element that accompanies these learning experiences. That makes here a great fit for our Instagram marketers top 10.
Website – Natalie Franke
Instagram Handle – @NatalieFranke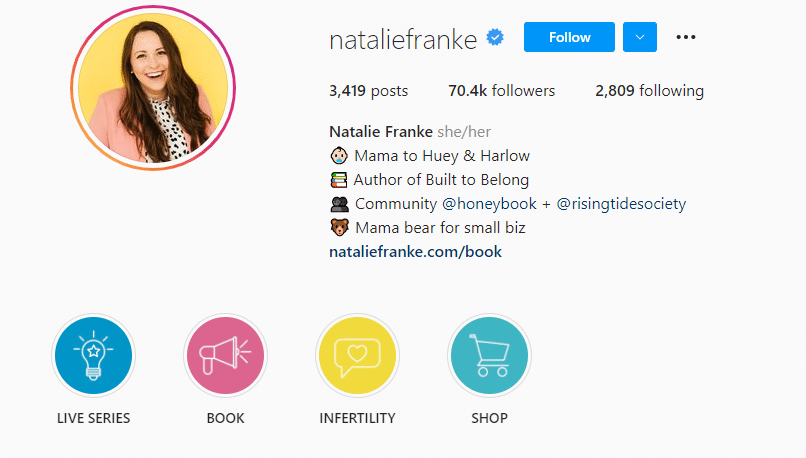 Instagram Marketers – Final Thoughts
It's true, there are literally hundreds of thousands of inspiring marketing gurus on Instagram. However, not every account is willing to share in the same way as these ten influencers and the level of interaction on these accounts speaks volumes about their authenticity.
If you are seeking for a professional Instagram growth service then you should definitely check us out!
Have we missed anybody? Who are your favorite people to follow on Instagram? Let us know by emailing us at hello@socialstud.io and we will most likely include more people on this list.