Instagram is a powerful marketing tool, and since its launch in 2010, it has grown to become one of the biggest social media platforms in the world. Instagram block has first occurred not so long ago.
Instagram is a fantastic way for businesses to connect with their consumers, but if you are reading this article, then you are probably seeking an answer to the question – why does Instagram block me from following more people?
Instagram Block Is Nothing New
For anyone who has regularly managed an Instagram account, you will probably have come across this problem at least once and know what is an Instagram block.
You will likely try everything, from logging out to deleting and reinstalling the app, but nothing seems to fix the problem. The reason for that is due to your account having been blocked from following any more accounts.
The good news is that it is only a temporary ban and your account will be unlocked after a short period.
Why Has Your Instagram Account Been Temporarily Blocked?
As there is no warning that your account will be blocked if you continue to do a specific action, many people are unaware of what it was they did that caused it.
However, let's talk about the six most common reasons about Instagram block and why an account becomes temporarily blocked.
Instagram Block If You Follow Too Quickly
One of the most common reasons why an account becomes blocked is because you were following accounts too rapidly.
As part of their attempt to stop spammers and bots, Instagram has created an algorithm to prevent them from quickly following hundreds of accounts in an effort to get them to follow your account back.
However, sometimes we all get a little carried away and could end up following other accounts too quickly – particularly if you are just starting a new account. Then Instagram block might occur.
To avoid being blocked, simply slow down how quickly you follow other accounts, after all, you do not want to be following Instagram accounts that are not relevant to you anyway.
You Might Get Blocked If You Follow Too Many
Another common reason for your account being temporarily blocked on Instagram is due to you following too many people in a set period.
This is part of the platform's attempt to prevent spammers and bots, and the limits are based on the number of accounts you follow within an hour, which, for established accounts, is 60 an hour (30 for new accounts).
To avoid falling foul of this limit, reduce the number of accounts that you are following and spread the process out over a longer period of time so you could avoid an Instagram block.
Third-Party Application or Bot Might Bring You An Instagram Block
The use of third-party follower apps or bots is banned on Instagram, so using these or any form of automation will get your account banned.
You should never use these automation bots to increase your followers and any services that you do use. You should check thoroughly that they do not use bots, as many claim they do not when in reality they do.
Some users are not aware of what apps have access to their account, so to check yours can manage their access by heading to the settings section when using the Instagram application.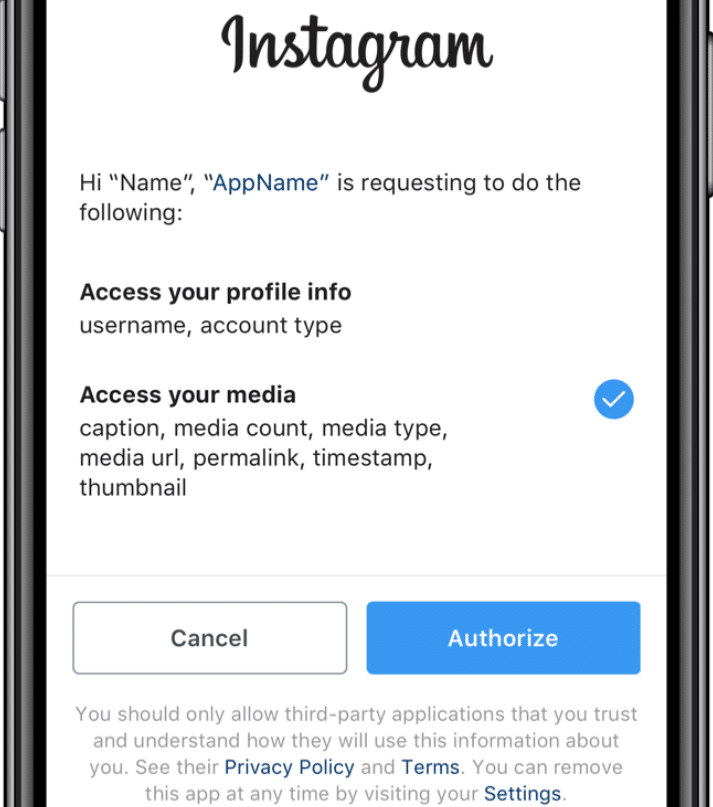 Block If Multiple Users Logged In
Although this is not a common occurrence, occasionally Instagram can block your account if there are multiple users logged into the same account and using it at the same time.
This is another security feature and is designed to stop bots as well as keep your data safe.
This is often a case for new business accounts, so it is important that the entire team in control of the account is aware of these rules and ensures that only one person is using it at a time.
Technical Instagram Problems
Sometimes you might not have done anything wrong, and Instagram is experiencing some technical problems. Although this is rare, it can happen, so the best option, in this case, is to simply just log off the app and wait for a few hours.
You can determine whether or not Instagram is having a downtime here.
It is also important to remember that you are only allowed to follow 7,500 accounts, so if you have reached that limit, then you will not be able to follow any more until you reduce this number. Make sure to unfollow users slowly too as you might get an Instagram block because of that too.
How Long Will I Be Blocked For?
Instagram does not reveal how long you will be blocked for, and it depends on the frequency of being blocked and the reasons why.
Sometimes the block could be for as short as half an hour while others have been blocked for several days.
The period of your ban can be reset if you repeatedly follow someone every few minutes, so if your account has been blocked, the best thing to do is to just stay off the app for a day.
Although the exact timescales are not revealed, established accounts that have been on the platform for a long time and have not previously violated any rules will likely not receive as long of a block as a newer account.
How To Remove Instagram Block?
If you find that your account has Instagram block, do not worry, it can happen to everyone, and it is a regular occurrence for businesses and personal accounts every day.
The best thing to do is simply to wait out the block and reduce whatever it was that you were doing, which caused you to be blocked again.
However, if you do not want to wait around, there are some actions that you can take, although we should point out that they are not guaranteed to work.
Switch to your desktop
Sometimes it can be very simple to work around the block by simply switching from your mobile to your desktop. Log in to your account via your computer and try to follow an account, some users have found that this can work.
Log out and in
Another quick fix that some users have found is as easy as logging out and in of your IG account. To do this, head to settings and navigate to the logout button at the bottom.
Delete and reinstall 
If logging in and out does not work, you can try to remove the app entirely and reinstall. To do this, log out first and then completely remove it from your mobile device.
Restart the phone and then head to App Store or Google Play and download the latest version and login.
Go through Facebook
As Instagram is now part of Facebook, blocked users have found that sometimes they are able to work around the block by utilizing the "Follow Facebook Friends" feature.
If you have connected your Facebook profile with your Instagram account, you can find this feature by heading to the Settings section.
Appeal the decision
Although the Instagram block is temporary and will usually be lifted before you receive a response from customer service, you can also appeal the decision.
When you try to follow someone, you will likely see a notification appear saying that the action is blocked. On this notification, you will find the option to contact support by clicking the 'Tell us' button.
Authentic Growth Agency To Avoid Instagram Block
Many people find that their account is blocked after they have utilized the services of a company that promises to grow their Instagram followers.
This is because these services frequently use automation and bots, which contravene the platform rules. That is why it is very important to choose your Instagram growth agency carefully.
Here at SocialStud.io, we understand that growing your followers is important, but at the same time, you do not want to be breaking any Instagram rules and risking getting your account blocked.
Organic Instagram Growth Service
That is why we utilize proven organic methods that can help you to grow your account with real, genuine followers and remain completely safe from being blocked.
When you partner with SocialStud.io, you will be connected with your own personal account manager, who will take the time to understand your goals and work with you to develop a clear growth strategy.
Once we have been able to create that, we will begin the process of engaging with your desired audience, helping your account to grow organically.
Instagram Block Isn't An Ending
To sum up, being temporarily blocked on Instagram isn't an ending. If you are growing your profile within constraints of Instagram then your account is safe and secure.
But, if you have done some shady things that are talked about above, then you might be in trouble and changing your growth strategy should be a first thing to do so you wouldn't get an Instagram block again.