Instagram is the biggest photo and video sharing social network today. Going by the demographics, 100 million+ photos and videos are shared on an average daily basis. The interacting UI makes it so simple to use. And then you wonder how to save Instagram photos.
Simply scrolling your feed shows everything from pet pictures to travel vlogs uploaded by users. You can easily follow your favorite stars on Instagram for regularly viewing their updates.
And while scrolling, it is very common to come across photos you like and want to save it offline. It can be anything from your friend's latest pic to a beautiful landscape picture.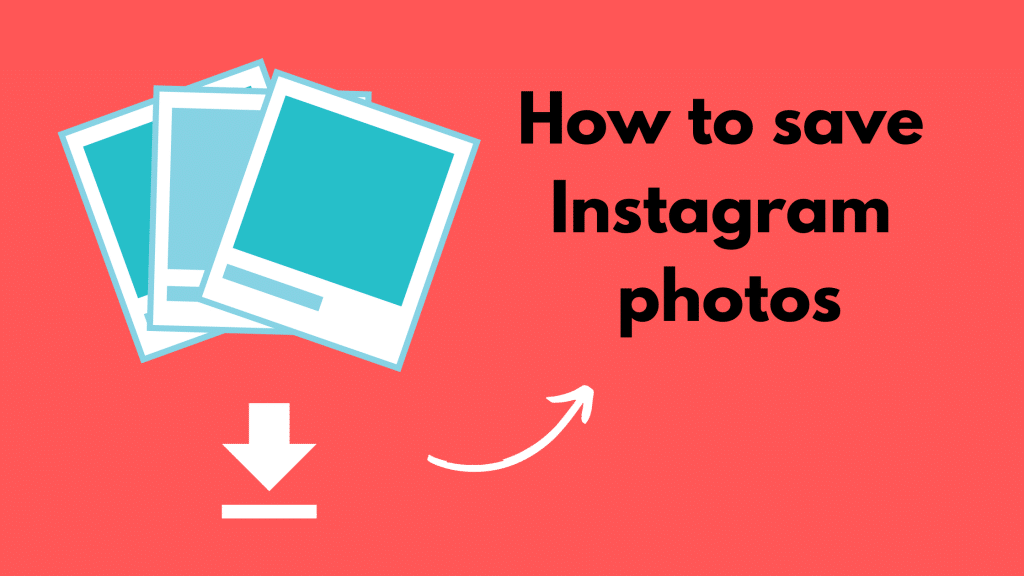 Why To Save Instagram Photos
Some of the most common reasons to save Instagram photos may be:
Downloading your friends' group picture you just got tagged in
Creating your own 'places to travel' bucket list
Food snaps you want to try later
Making a collection of loved photos
Or even saving your posts in case you lost the original file
Downloading your favorite double-tapped Instagram photos is always a desired option by users. However, considering there is no 'save Instagram photos' option officially, the process may get tricky.
Again there are certain strict regulations and copyright issues set by Instagram. So, do consider looking into the regulations before following the tutorial on how to save Instagram photos.
Is It Against Rules to Save Instagram Photos?
Well, technically, it isn't illegal to do so but there are some strict guidelines on the same.
If you have taken or shared an Instagram post, you own the solo copyrights on that post. According to Instagram copyright rules, you can:
Stop anyone from editing or creating new content on top of your work
Stop other users from distributing the photos or videos posted by you
Grant consent to other users to use your content for re-posts
Stop fellow users from using your copyright content with your permission
Instagram, on itself, doesn't impose restrictions on saving an Instagram post for re-posts. However, you need to ask for consent from the owner for using their photos or videos. Its best practice to get written consent for the same to avoid any future consequences.
And always give due credit to the owner. For a detailed understanding of the rules, here are Instagram's copyright rules.
How to Save Instagram Photos to Your Camera Roll?
If you are looking to save photos you've taken directly on Instagram or the Instagram filtered and edited version of your photo to your phone gallery, there is an easy process to do so. Here is just how:
Go to your profile tab and tap on the icon of three horizontal lines.
On the right sidebar that pops up, Tap on Settings and then go to Account> Original Posts.
Next, click on the Toggle buttons to turn on 'Save Original Posts' as shown.
Tip: Turning on this option lets all photos and videos that you upload on Instagram to be saved offline to your Camera Roll.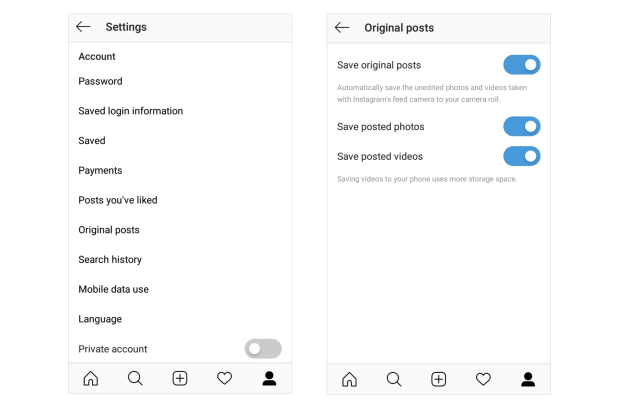 How to Save an Instagram Post Without Taking a Screenshot?
So you loved an Instagram post, double-tapped on it to show your like and still not content, you want to save it offline for viewing later.
Or found a pic of your dream place you want to go tripping this summer? Or your favorite brand launched its latest product? Then you wonder how to save Instagram photos?
Taking a quick screenshot seems the most obvious and good-to-go option. But wait, what about the pic quality?
Screenshots reduce the original image quality by at least 5 times. So, what is the other way around? Is there even an alternative option?
Yes, there is a better way to save Instagram photos. In 2017, Instagram added a small new feature that allows Instagram users to bookmark any post to view later quickly. Now, this option saves the post to a remote folder inside the app.
How to Bookmark an Instagram Photo?
Firstly, tap on the bookmark icon located right below the image, on the right-hand side corner of the image. The icon should appear similar to a flag icon.
To access the saved Instagram post, go to your profile page by first tapping on the icon of three horizontal lines.
Next, tap on the bookmark icon named 'Saved.'
Tip: You can easily collect and organize similar bookmarked posts into one collection, which you can view in your IG profile collections menu. For example, you could have a collection of photos of places you want to travel to a folder named 'Travel.'
How to Organize Your Saved Instagram Photos?
Tap on the 'Save to Collection' popup option.
Next, use the plus '+' icon to start creating your new collection.
How to Organize Your Instagram Bookmarked Photos?
Go back to your profile section.
Tap on the bookmark icon on the menu.
Finally, tap on the + icon to start creating a new album and move your bookmarked photos to the collection.
Whenever you bookmark an Instagram post to your collection, a popup appears on your feed alerting you about your action. But be rest assured the content remains private to you.
The owner of the photo is never notified when other users save their content.
Though this feature may not be as popular as other available Instagram features but is quite a handy one, the Instagram collection lets you keep track of your saved content you wish to visit later. But you still wonder how to save Instagram photos.
You can also arrange these posts into separate albums as required.
Why Save IG Photos to Collections?
Well, this feature may serve different purposes, depending on your needs and business purposes. Some common uses of saving Instagram photos to collections are:
Organizing User Generated Content (UGC)
Instagram posts that mention your business can be saved for future use. Watch out for photos and videos you have been tagged in or created using the unique hashtag relating to your brand/ business.
Saving these posts to an Instagram collection serves as a repository of user-generated content. But, do not forget to ask out the user before re-posting their post!
Keeping Track of Competitors
Instagram has become popular not only as a photo-sharing social network but also as a good platform for brand promotion and affiliation.
Considering all your fellow competitors selling similar products and services, it is always good business to keep track of the engagement they gain on posts.
You can create a collection of competitor business' posts that carry a catchy caption. This shall help you prepare newer and better content for your next Instagram post! And yes, your competitors never get to know you saved their post.
Drawing Inspiration From Other Users
Creative content is the heart of Instagram. And saving Instagram photos to draw inspiration from only fulfills the purpose of Instagram.
Think of your saved collections as visionary digital content. The content could be anything and everything.
Don't worry, below we will talk about how to save Instagram photos.
Like say you want to recreate a photographic technique used by your favorite photography page on IG, you can save the image to your private collection for future reference.
Search for creative content relevant to you and bookmark them right into your collection!
How to Save Instagram Photos Directly to Your Camera Roll?
So, you tried saving or bookmarking Instagram posts to create a collection of them. But you still not content with why there is no direct option to save the image to your gallery!
Instagram has no issues with users saving their photos to their camera roll or bookmarking to save other users' posts.
But Instagram copyright protection rules won't allow you to directly download and save Instagram photos either on the web or mobile. You would require the owner's permission to use their content.
Important: It is against Instagram's terms and conditions to use other's content without permission. Read Instagram copyright rules to avoid legal issues.
Saving Instagram Photos via Copy URL
Here's one way to save Instagram photos:
On your mobile Instagram app, find the photo you want to save.
Next, Tap on the triple dots on the top right corner of the post.
Click on the 'Copy Link' option.
Next, open your browser can paste the URL and go.
Once the image appears, click and hold onto it till the 'Copy' option appears. Select the 'Copy' option.
Next, open the Notes app and on a new note, paste the copied image.
Tap on the 'Share Note' option and click on 'Save Image.'
How To Save Instagram Photos via Page Source
A bit of simple coding, and you can save your loved Instagram posts this way too:
Sign in to Instagram on your desktop.
Next, Tap on the triple dots on the top right corner of the post.
Click on "Go to Post".
Right-click on the page and select "View Page Source'" from the pop-up menu. This should open up a new tab with the coding elements.
Press "Ctrl+F" by using your keyboard and search "jpg." on it.
Highlight the first link you find with a .jpg extension and copy it.
Paste the link on a new web browser and go.
The image you want should appear, which you can then right-click to save.
Using Third-Party Applications to Save Instagram Photos
Along with the other three options described above, you can always try using third-party websites or apps to save Instagram photos.
How To Save Instagram Photos on Desktop
DownloadGram is a very popular online Instagram photo saver that offers simplicity in the task.
Simply 'Copy the Link' of the Instagram post, which you want to download and paste the URL in the box. Hit the Download button>Download Image to start saving Instagram photos locally.
How To Save Instagram Photos With InstaView
InstaView is another excellent online tool to save Instagram photos, videos, and even stories directly to your local storage. For photos and videos, you need to paste the Link URL in the box provided.
And for IG stories, you can start by entering the username of the user.
How to Save Instagram Photos on Android and IOs
On mobile platforms running on Android and iOS, there are multiple third-party apps on their respective app stores that help save Instagram photos easily.
While some of the third-party apps don't work, you can always save Instagram photos using any other method described above. And remember to abide by Instagram rules and copyright guidelines. Happy Downloading!