What's the first thing you do when you hear about a new business? Check for its Instagram page, of course! No need to wonder how to get traffic from Instagram, we will show the best ways.
According to Hootsuite, around 60% of Instagram users have said they have found out about a product and/or a service via Instagram, while 75% of them actually pay heed to their research and take action, like pursue the brand further.
By 2017, 70% of the businesses in the United States began to use Instagram for marketing after realizing the potential and the incredible reach it had.
Mostly used for product awareness, driving traffic to and fro from their portals, and to increase online sales, brands and businesses have access to innumerable potential customers on this platform.
On top of that, Instagram has enhanced its features to accommodate the incoming business by providing the option to use a Business Profile and various ways to upload media and let followers engage with it. With many ways to curate content and draw in followers, Instagram businesses can direct just the right amount of traffic to their Instagram and non-Instagram platforms to make the revenue they're aspiring for.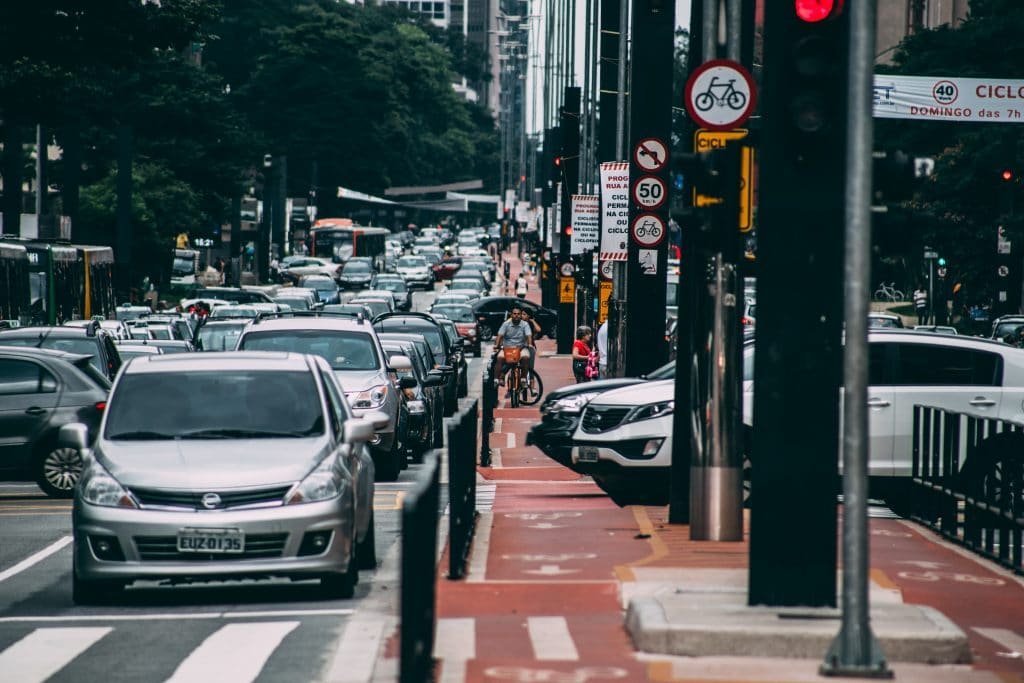 What Is This Instagram Traffic We Speak Of?
Well, online web traffic is an important metric that helps marketers analyze the webpage's performance in a much more comprehensive way.
In other words, web traffic is a way to measure how followers and potential customers or new visitors have engaged with a brand's page.
When someone opens your website or page, the communication between the servers becomes active, and files are transmitted to and from, meaning that every file sent is a hit. For example, the following are some factors used in the analysis and measurement of web traffic.
How long did users stay on the page? Were they there for a few seconds or did they stay longer?
This behavior is measured by studying the bounce rate and time on a page to see what users do when they land on a particular web page.
Did users make a purchase? What percentage of them bought goods/services?
It's important for brands to know how many visitors their page has and how many really engage with their brand. Using conversion rates, we can see if an online store is doing its job or not.
What does it cost per visitor? Are they worth investing in?
Various online stores rely on earnings from paid traffic to grow their business. Two of the most important metrics of web traffic are Cost of Acquiring Customers and Cost Per Acquisition. These metrics are then balanced with Average order Value and Customer Lifetime value.
In other words, Instagram traffic is a way to numerically understand how well your business is faring on the platform and how customers and followers are engaging with your content. How to get traffic from Instagram is not an easy question to answer, but we will do our best.
What Are The Benefits of Instagram Traffic?
Now that we know that traffic is a metric to gauge how popular or well liked your content is, there are many other benefits to this.
Not only does it show you how effective your posts are, but it also shows you how groups of people receive your content.
How Useful is Traffic From Instagram?
Does it really matter if a page has a lot of it or is it just something that you're wasting your time monitoring? Here are some benefits that'll sell you on the idea of Instagram traffic:
· More traffic means more revenue in terms of sponsored posts, direct advertisers, etc.
· Traffic helps to expand business in the long run.
· It can help you rank higher on search engines (like staying on the first two pages on search engines like Google or Yahoo).
· Traffic helps to bring more attention to your profile.
· It helps direct attention towards your various online presences.
· It helps to forecast how certain demographics receive your content.
Traffic isn't just a way to make money or plan ahead for bankable posts. The traffic generated from your Instagram is a way for you to see how you can catch the attention of prospective visitors, and how you can encourage them to stay for longer.
How to Get Decent Traffic from Instagram
Because Instagram is becoming the primary source of shoppable information, it's a great way to direct traffic towards various parts of the profile or even to external platforms.
We know how important traffic is in determining various components for business. In a way, it's a digital report on how well you are faring in the market and amongst your competitors.
So how do you generate a decent amount of traffic to keep your revenue flowing and keep your business up and running?
Make the Perfect Profile To Get Traffic From Instagram
Your profile is representative of you and your brand and should be treated as such. Begin by choosing a username that helps you stand out — experts suggest adding your job title and niche to the username, too, to add individuality.
Next, focusing on the perfect Instagram bio; in just 150 words, you have to convince new visitors to stay and click the follow button. It's also an opportunity to convince them to click on any outbound links you may have added in your content.
On top of that, your profile should have a general theme that's unique to you and your brand. Perhaps you like black and white posts or like to arrange them in a certain order — whatever you do, make sure it entices your visitors into coming back for more. How to get traffic from Instagram will no longer be the question you need to ask.
Use Keywords and Hashtags
Keywords are a great way to generate traffic. Although not used so frequently on Instagram, you can include certain keywords to pop up in global searches.
The purpose is to increase visitors' and followers' understanding of who you are and what your brand stands for.
We're all familiar with hashtags — they're all over Instagram, and even on other platforms, too.
A unique hashtag which you're recognized for will do wonders when it shows up in searches, and thoughtful creative and strategically planned hashtags are the ones that usually drive the most traffic to a profile.
A recommended 5–10 hashtags per posts are an ideal option, mixed and matched with popular and trending ones, alongside your own brand's.
Space Out
We've spoken about outbound links a few times, but let's really get to them, shall we? It will help to understand how to get traffic from Instagram.
Brands are aware that Instagram is one of the best ways to garner loyal customers and followers. This means that it's the perfect place to advertise all the other platforms you're on, too.
Platforms like your own webpage, online store, another profile — anything! It's a great way to encourage visitors to check out your brand on another portal; meanwhile giving you increased traffic numbers to revel in!
The idea is to send followers to the most ideal location where they'll spend more than a few seconds navigating and getting interested in what you have to offer. These outbound links also help you tabulate traffic numerics.
Instagram Traffic Attracting Images
Using top quality images is the best way to connect with users on Instagram. Using filters, different capture modes and various other tools, you can modify your pictures to look more appealing.
With so many applications and software available out there, and even using the built-in tools on Instagram, you can enhance ordinary pictures to look like works of art to draw users towards your profile. Even including Call-to-Action links or higher quality image prints is also a great way to get traffic to stick around.
Captivating Videos to Get Traffic From Instagram
Instagram has various ways of allowing you to show off your videographer skills. With various frames in which to shoot videos, and with built-in emojis, stickers, and other animations to jazz up a simple video, you'll be making content that users will be flocking towards.
Even using the Instagram story, Highlights and IGTV and Live features, you can draw traffic by uploading candid videos of yourself, and giving potential customers an inside view of the brand.
It'll help to build trustability and rapport, making potential clients stay longer at your page and draw more of their following toward you. Then you will stop wondering how to get traffic from Instagram.
Exclusive and Enticing Content
Various businesses have tried this new hack; showcasing half of their pictures on a webpage and half on Instagram. In doing so, they make followers and customers go back and forth, scroll up and down, and engage with the page.
This smart way helps to increase traffic, increase the numerical value of follower engagement, and reaps tons of benefits.
In other words, whatever content you have planned for driving up Instagram traffic, make sure you've got different media waiting to be uploaded on other platforms where you are present.
Otherwise, why would clients follow you on both portals if the same information is available to them twice?
How to Get Traffic From Instagram? Be Active and Engaging
A dormant Instagram profile is the most boring thing to follow. What makes followers click on your posts or "Like" your posts is the content activity and frequent uploads of creative content.
This doesn't only mean that you should only stay active on your Instagram page and constantly direct traffic to your other platforms. It means to use your Instagram connections, Blogger and influencer networks intelligently to get them to "@" you.
What does this mean for you? More traffic right from your collaborator's pool!
Be Daring in Order to Get Traffic
How is traffic calculated? By the number of seconds a visitor stays on your page or post and how many times a post has been viewed and shared, liked or saved.
Your content will, of course, be geared towards promoting your brand and it's ideals, but step aside every once in a while to put up mind-boggling content that'll make the users want to see your content repeatedly until they're not so shocked anymore.
You'll be surprised by how this drives up the traffic numbers!
Next time, use a thrilling caption, a mysterious story or even a vague picture to keep visitors and followers busy and scooping your profile.
How to Get Traffic From Instagram – Have A Strategy
Driving traffic isn't a one-time effort; it has to be redone again, on and off to maintain the flow of minimal traffic required to sustain the brand/business.
Use your analytics every now and then to understand and assess your visitors' behavior, preferences, and interaction with your posts. It's a great way to make forecasts for future posts and understand how your content will be received if it takes a certain turn. So how to get traffic from Instagram?
Plan a strategy that involves when you plan to post the tailored content — usually, specific days and times of a day work better. In fact, keeping active on Instagram or other social media platforms requires a smart strategy if you also aim to divert traffic towards your business.
Get Help to Get Traffic From Instagram
For those really serious about driving traffic from Instagram, a great way to do that is to work with a social media manager.
They're well versed in the world of Instagram and know just how to understand user behavior to curate the content for your brand/profile to draw in large amounts of traffic.
They're also great with feedback and aren't so costly — and you get regular reviews on your performance, too!
A social media manager is one of the best individuals to get in touch with if you don't want to deal with the hassle of your traffic numbers — they'll do the job for you and make it simpler for you, too!