Social media is essential. While in its early days, it was designed to help you connect to school friends, it has since morphed into one of the most vital tools of marketing for businesses, helping to place them directly into the palms of customers.
Of course, it is not just businesses that are benefiting from social media, with celebrities and influencers alike using social networking to build a closer connection with fans.
Instagram is the fastest growing social media platform in the world.
Standing out amongst the crowd and authenticating your brand can be tough, which is why the platform offers the ability to verify your account – but what is Instagram verification? How to get verified on Instagram?
How To Get Verified On Instagram And What Does it Mean?
Getting your account verified on Instagram is a great way to prove that you are who you say you are. By becoming verified, it demonstrates that your account is authentic and, according to Instagram, belonging to "a notable public figure, celebrity or brand".
When you become verified, your profile will be displayed with a small blue tick, signifying to your followers and other users that it is really you.
This is particularly useful in preventing imposter accounts from damaging your brand reputation, while it can also help to make your account appear more prominently in searches.

What Are The Requirements For Being Verified?
Wonder how to get verified on Intagram?
Becoming verified on Instagram is a difficult process, and the blue tick is only provided when it is in the public's best interest, so it is usually reserved for celebrities, major brands, and high-follower influencers.
Alongside that, Instagram has also outlined four key criteria that your account must reach:
Get Instagram Verified With Authenticity
This means that your account must be representing a real person, or a globally recognized and registered brand or entity.
How To Get Verified On Instagram With Uniqueness 
This means that your Instagram account must be providing unique content, and it is the only representation of you on the platform. The only exception to this is those brands that have created separate accounts for different languages.
Completeness Is Important To Get Verified
A complete profile is one that has a full bio, comes with a profile photo, and contains at least one post. The Instagram account should not have any links to other social media services and should also be public.
Instagram Verifies Notable Accounts
The most significant factor of all, however, is ensuring that the account represents a famous, well-known, and highly searched for person or brand. How to get verified on Instagram is not an easy question to answer, a lot goes into it.
To be verified, Instagram will look for reports of people or brands who are regularly featured in independent, non-paid for news sources.
Instagram's verification process is entirely independent, so having a verified account on another social media platform does not mean you will be automatically eligible for verification on Instagram.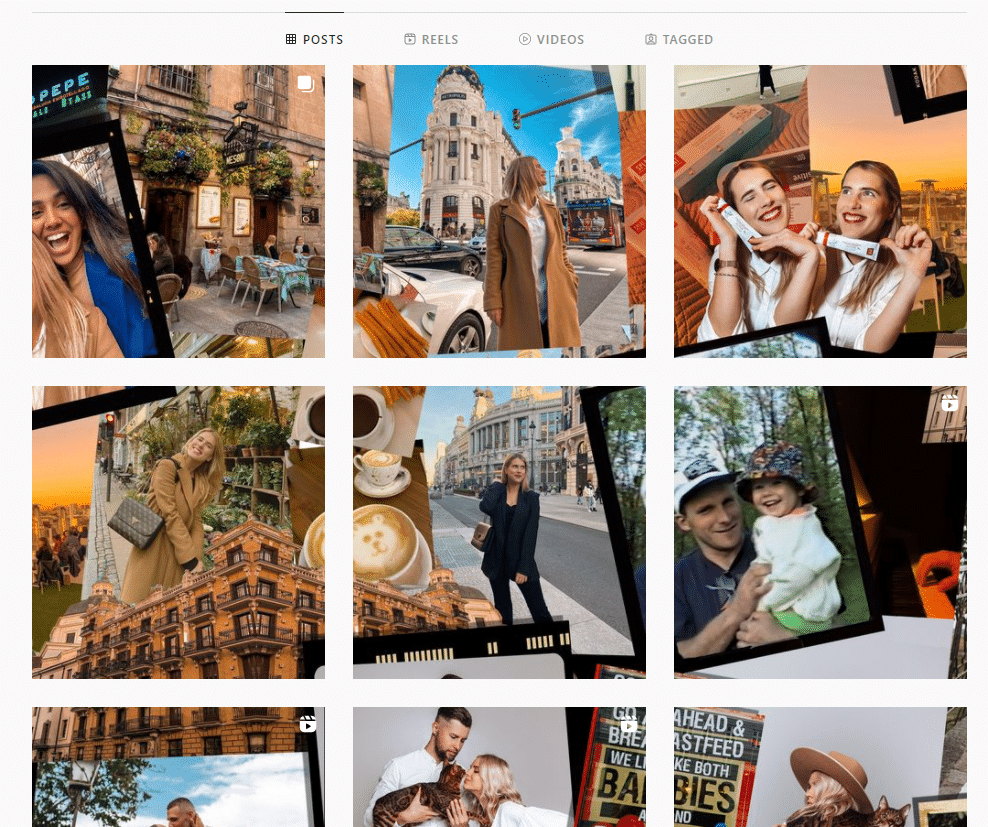 How To Apply For Instagram Verification
Although becoming Instagram verified is only reserved for notable accounts, the application process is straightforward and only requires three simple steps.
This was not always the case, with the process remaining quite secretive, however, over time the platform added a feature whereby accounts could request to be verified.
The process of requesting Instagram verification is simple.
How To Get Verified On Instagram Step 1 – Log In
This might seem a simple one, but the first step you need to do is to log into the account that you want to be verified. If you manage multiple accounts, then make sure you have selected the one you would like to get verified.
Request Verification From Instagram
Navigate to your profile and access the main menu by clicking the icon on the top right of the screen. Click the gear icon to enter the settings section and then navigate to your account and simply tap 'request verification'.
Confirm Your Identity For Instagram Verification
You will then need to confirm your identity with Instagram and to do this, you will need to supply them with:
Full name as it appears on your legal identification; this will require to be proved by uploading a picture of your passport, driver's license, or government-issued ID.
The trading name of your company, or the name you are most usually known as (such as a nickname).
The category you or your business cover, this includes News, Sport, Politics, Government, Music, Entertainment, Influencer, and Business. Make sure you choose the right solution for your brand.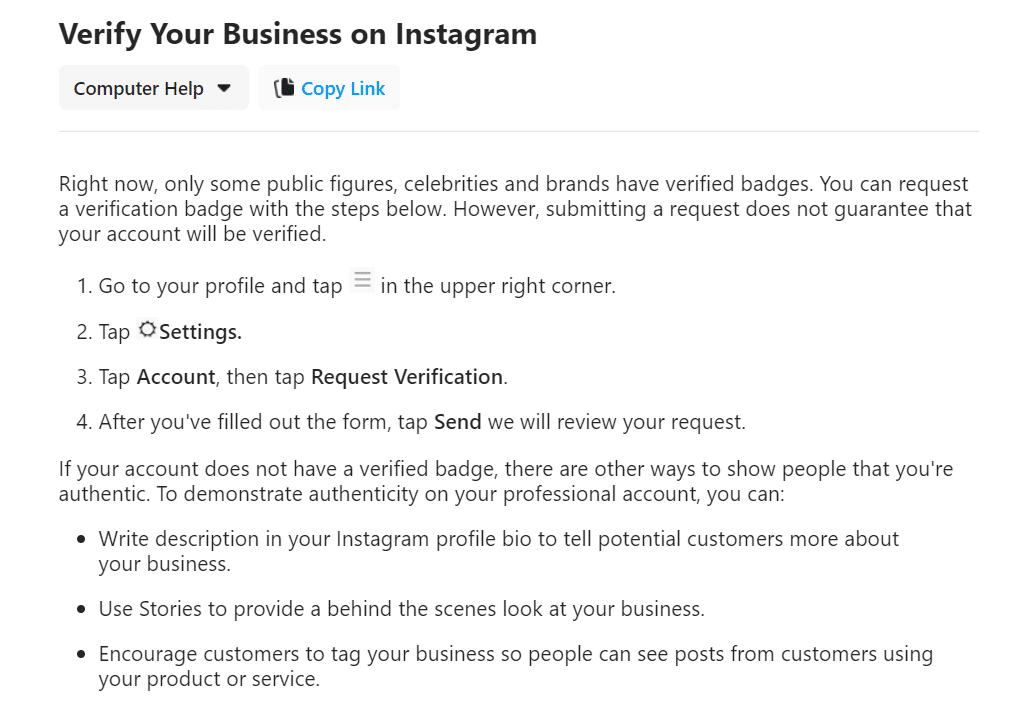 Once you have provided them with this information, Instagram will begin verifying your account and confirming you are authentic and meet their requirements.
Once they have done this, Instagram will then let you know whether you have been approved or declined via your Instagram notifications.
There is no set timescale that Instagram will take to confirm your identity, but typically you will know within a few days of submitting your request.
It is important to remember that Instagram will not send you an email asking for payment or more information, so if you receive one of these, then it is likely an email from a scammer.
Top Tips On How To Get Verified On Instagram
Anyone can request verification, but only a very few select people and brands are able to become verified.
Submitting a request is not a guarantee that you will be verified, but there are some tips you can practice to give you the best chance of being approved.
Grow Your Profile To Be Verified On Instagram
Although having thousands of followers is not a requirement in becoming verified, it can certainly help.
By proving you are already an account that is worth following, it can significantly help to boost your chances of being verified.
However, it is important to remember that these followers need to be real users and engage with your posts, so purchasing fake followers will have a detrimental effect.
Add Value To Your Brand
You should make sure that the content you are sharing is honest and of interest to followers.
Instagram is looking to verify accounts that provide interesting and unique content, making sure it is different from any other account that might be using the same name.
This means that every post you make, on your profile or via Instagram Stories, needs to be adding value to your overall brand.
Be Newsworthy 
In order to be verified on Instagram, you need to be a high profile brand or individual. To help you achieve this, you should be trying to appear in as many individual news sources as possible. Then you will stop searching how to get verified on Instagram on search engines.
There are many ways to do this, such as sending out press releases when you have newsworthy news, drumming up press coverage and reaching out to journalists to provide comment on current topics.
Remember, though, Instagram does not take any paid-for content into account, so these news stories must be genuine and organic.
Build a Presence Away From Instagram
Having large numbers of followers on Instagram is important, but so is building your profile away from the platform too.
Without doing this, it is hard to prove you are a notable entity, so you should ensure that your website is prominent and regularly updated with blogs and content.
Post Regular Content To Help To Get Verified
Not only should you be ensuring you are sharing valuable content, but you should also be ensuring that you are sharing this content regularly.
Although Instagram states that an account only needs one post in order to be verified, you should be aiming to be active and posting regularly.
Don't Give Up On The Verification
Unless you are an A-list celebrity or a household name brand, the chances are you might not be verified on the first attempt. Don't get back to searching how to get verified on Instagram, you know everything now.
If you are declined initially, then take your time to improve your brand and your content and apply again. You are eligible to reapply for verification 30 days after your initial request was declined.
How To Remain Instagram Verified 
Being verified is not a permanent feature, and Instagram has the right to remove the blue verification tick from any accounts that it deems to be breaking its rules and terms.
There are a number of actions that could lead to you losing your badge, including:
Advertising, transferring or selling your verified account to another individual
Using your profile photo, bio or name to promote a service, product or brand that is not yourself
Using a third-party app to try and get yourself verified
So if you have been able to get your account verified, make sure that you continue to follow the rules of Instagram and do not contravene any and risk losing your verification badge.
What If You Are Unable To Get Verified On Instagram?
Being verified can help to prove your authenticity, but it is not the only way. If you are unable to get verified, then you should still focus on ensuring your account is providing followers useful and high-quality content.
To help confirm your authenticity to new followers, you should add links to your Instagram account from official channels such as your website.
You should also provide unique, behind-the-scenes content as well as use your Instagram account to share breaking news about new products and company.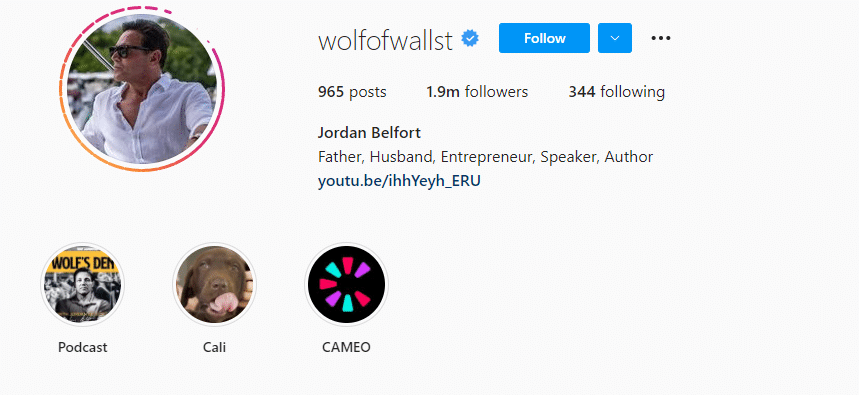 How To Get Verified On Instagram Final Thoughts
Getting verified on Instagram isn't an easy task. Striving to create an authentic and trustworthy brand will help you out.
But keep in mind that while getting verified is always a nice addition to your digital marketing needs, it is not an essential requirement in order to maximize your success.
There are thousands of accounts out there, from businesses to influencers, who have been able to create powerful Instagram promotions and increase brand awareness without the verification badge.